Chronic Disease Management Programme
With your donations we can keep our clinics running for migrant workers with chronic medical conditions who need support.
Donate to HealthServe's Chronic Disease Management Programme
Every dollar raised through this campaign will be matched $ for $.
Every dollar raised through this campaign will be matched $ for $. ​
Donate to Us
(Donation Portal)
Why Chronic Medical Conditions?

HealthServe's Chronic Disease Management service has seen a steady increase in demand in 2020
& 2021.
50% of visits to our clinic now involves at least 1 chronic medical condition.
Result of global travel lockdowns – migrant workers who used to obtain medications from home are now coming to HS.
Although there are now government medical facilities at Recreation Centres set up around major dormitory areas, the cost of consultation and medication is relatively high – around $1,000 – $1,300 per-annum at a Government Polyclinic or a Private Clinic vs $250 per-annum at HealthServe.
Migrant workers with chronic diseases would typically not go to their company doctors or seek reimbursement for treatment of their conditions.
The workers' chronic medical conditions include:
Hypertension
Diabetes
High cholesterol
Asthma
Eczema & chronic dermatitis
Gastritis (gastric pain or indigestion)
Who will your donation support? - SH
"All men at HealthServe very helpful… very friendly."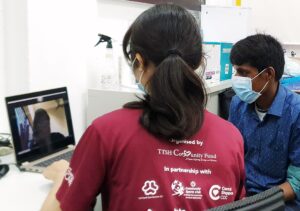 SH was diagnosed with diabetes eight years ago. He was introduced to HealthServe by a friend three years ago, after finding other clinics too expensive and struggling to cope with the costs as a Special Pass holder at the time. Under our care, SH now has a long-term treatment plan, undergoes regular blood tests, and only pays $15 per visit for his consultation and medication due to HealthServe being heavily subsidised for Work Pass holders. With his continued treatment at HealthServe, his diabetes has improved, and he has been able decrease his insulin dosage. 
Who will your donation support? - JA
"If I die, I might as well dies in Singapore."
After self-medicating for many years, JA was introduced to our Geylang clinic by a friend when his chronic gastrointestinal disease worsened before the Circuit Breaker. His condition was affecting his work and mental health. It was also causing him to lose a lot of weight, constantly feeling weak he knew with he needed medical attention.
Worried about how he would cover the cost of treatment, as he knew his employer would not pay for his medical care, he sought help at HealthServe. JA was pleasantly surprised during his first visit at how the doctor took the time to listen to him and make sure that he was alright. With HealthServe's help, JA was referred to a specialist doctor and able to speak to him through the clinic's telemedicine system. Since coming to HealthServe in April 2020, he has visited the Geylang clinic more than twenty times to see our doctors, have investigative test and receive treatment. JA now has a long-term care plan and has access to subsidised medication.
Having already claimed over $15,000 against his medical insurance, JA no longer has any cover and needs to continue to pay for his medical care from his salary but is thankful for the help and support he receives through HealthServe. Without the care he has received through HealthServe he would have had to return home as his employer does not cover outpatient care.
How does $ for $ match funding work?

HealthServe has been awarded the Enhanced Fund-Raising Programme Grant for our Chronic Disease Management Programme from Tote Board.
For every dollar donated through our online platforms (HealthServe's donation portal, Give.Asia and Giving.Sg) we will receive dollar-for-dollar matching up to $250,000.